Welcome to Swans
As the new school year gets underway, have a look at some of the fantastic activies Swans Class did last year.
Swans Summer 2022
Bottle Top Sculpture
During our work about sustainability and recycling, we made images using bottle tops. We showed that we can use recycled materials to make new things.
Cricket
There may be some future cricket stars in our class! We learnt how to bat and field and worked really hard to improve our skills.
Design and Technology
Our challenge in D&T was to design and make a model of an object that could be used by a Roman. The object had to contain a lever, a hinge or an axel. There were many objects made ranging from catapults to chariots.
Science – Electricity
In science, we learnt about the components needed to make a circuit. We investigated electrical insulators and conductors and designed circuits that contained switches.
Music Mash Up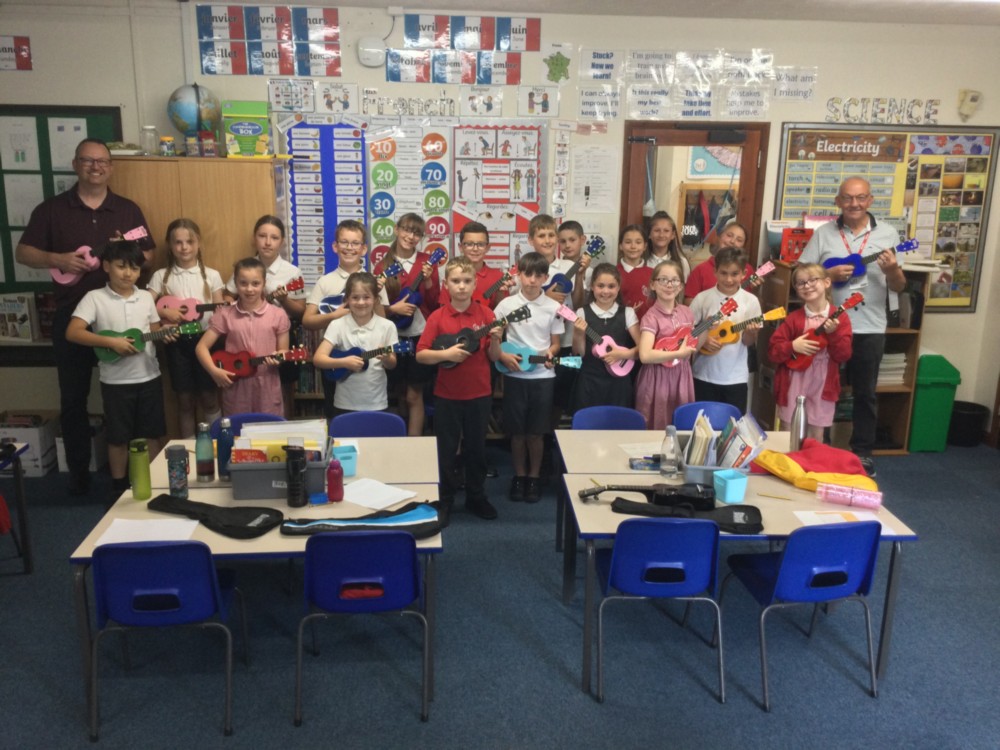 Swans and Owls classes had the opportunity to take part in a music Mash Up organised by the Lincolnshire Music Service. We had to learn how to play two songs – The Wellerman and Y Pentre. Swans played the ukulele and Owls played the glockenspiel. We would like to thank Mr Cuthbertson's dad who helped the Swans to learn how to play The Wellerman on the ukulele! The Mash Up event was held online. We played along with over 4000 other pupils in schools across the county. As well as the songs we had been learning, we learnt some new songs and learnt how to beatbox!
New Age Kurling
We had the opportunity to try New Age Kurling during Sports Week. Swans class were amazing and showed brilliant control and coordination!
Teamwork Tasks
In PE, we took part in some teamwork tasks. We had to navigate around a course with a partner or in a team. We then made it more challenging by having to hold a skipping rope around the course. Finally, we had one person in each team with their eyes open and the others had to have their eyes closed. We learnt the importance of good communication and perseverance.
Spring Term
Bubble fun
We have some super lunchtime activities. We especially enjoyed playing with the bubbles! We challenged each other to see who could make the biggest bubble!
Coding
We worked hard to improve our coding skills in our computing lessons.
Painting
Inspired by the work of Claude Monet, we painted our own cityscape pictures.
Sandwich making – Design and Technology
Our D&T work this term was designing and making sandwiches. We began our work by finding out about hygiene and how to use utensils safely. We also thought about what sandwiches we have eaten and could make. Part 1 – Bread tasting. Our design process began with tasting different types of bread. We enjoyed sampling the variety of bread options!
Part 2 – Sandwich skills. We couldn't make sandwiches without the skills to make them! In this lesson, we investigated slicing, grating and peeling. We also learnt how to butter a slice of bread. Using the materials available, we made our first sandwiches.
Part 3 – Making and tasting sandwiches. After developing our sandwich-making skills, it was time to design and make our own sandwich. We planned a sandwich and chose our ingredients. We then made our own sandwiches using the bread and ingredients that we had chosen. Finally, we had a sandwich picnic to taste what we had made (in class because of the rain!)
Science – Teeth
Examining teeth - In our science lessons, we learnt about the digestive system and our teeth. We used mirrors to examine our teeth.
Tooth decay investigation – we investigated tooth decay using hardboiled eggs! We put the eggs into different drinks to see the effect of the drink on the shell as this would have the same effect on our tooth enamel. We also coated some of the eggs in toothpaste to see what happened. We found that the sugary drinks damaged the shell of the eggs. We also found that the toothpaste helped to protect the eggs! This showed the importance of keeping our teeth clean, especially after eating and drinking sugary food!
Volleyball
Our PE lessons this term have been about volleyball. This was a challenging sport as we had never played it before. It took us a few lessons and lots pf perseverance, but we really improved our skills and played some mini games!
World Book Day
For World Book Day, we had a reading café where we had the chance to investigate books from different genres and write mini book reviews. We enjoyed looking at the different books and many of us chose some of the books as our next reading book.
Autumn 2
Clay Statues
Stone Age people made statues out of wood and clay. We made our own clay statues with the body of a person and the head of a lion.
Ukulele performance
We ended our ukulele lessons with a performance in class. We hope you like what you hear!
Autumn Term 1
We have had a very busy term in Swans Class! Our we have been learning about the Stone Age, both inside and outside the classroom!
Designing Stone Age Tools and Weapons
In our design and technology work, we had to design, make and evaluate a Stone Age tool or weapon. After thinking about what we wanted to make, we used our forest area to collect resources to make them. We did have to use some modern-day string to help us though!
Stone Age Camp Freeze Frames
To inspire our writing, we became statues! We used freeze frames to show the different jobs people had to do during the Stone Age. Can you guess what we are pretending to do?!
Investigating Rocks
As part of our science learning, we investigated the properties of different types of rocks.
Ukulele
This term, we have been fortunate to have ukulele lessons with Mr Squires from the Lincolnshire Music Service. We have been very impressed with our own musical talents!