Welcome to Kingfishers Class
As the new school year gets underway, have a look at some of the fantastic activies Kingfishers Class did last year.
Autumn Term 1
---
Kingfishers Summer 2022
Discover and Do
We have been exploring our learning through Discover and Do. We have learnt about famous explorers and through discover and do have shown our knowledge about Christopher Columbus, Sir Francis Drake, Ranulph Fiennes and other explorers. We have looked at how Harvest is celebrated in Christianity and in Judaism through Sukkot.
Maths
Sharing into groups has helped us with our multiplication and division facts. We have learnt about how a clock works and have learnt how to tell the time of o'clock, half past, quarter past and quarter to. Some of us can even tell the time in five-minute intervals.
Art
In art we made telescopes and then used them to create pictures. We drew observational drawings and created port hole paintings of what we could see.
Pirate Day
Pirate Day was full of excitement! We sang sea shanties and action songs. We played team games to develop our working together skills and had great fun stealing each other's treasure! We made pirate flags, maps, and golden play dough which we could use to make our own golden coins.
Jubilee Day
Jubilee day was a day full of fun and games. We had a whole school picnic outside and played some traditional games on the playground such as, The farmers in his den, In and out the Scottish Bluebells and The Big Ship Sails.
Sports Week
This was a very busy week. We learnt how to do archery, play soft ball, play New Age Kurling and even rugby! Our challenge for the week was to learn skip with a skipping rope. We ended the week with a very hot sports day!
Kick Ball Hide
During sports week we learnt how to play kick ball hide! This was a fabulous game to play, and we had to write instructions so other people could learn how to play the game too! We went outside to test our instructions and see if we needed to make any changes.
Spring Term
Spring term has been a very busy term indeed! We have been learning about People Who Help us and where we can find them in Holbeach. In our literacy lessons, we have learnt all about the emergency services and have written poems and fact files about the Police, Firefighters and Paramedics. We even got to question the firefighters, that came to school, with our own questions. I think we impressed them with our questions! We have explored co ordinating and subordinating conjunctions and we are hoping to start to use them in our writing next term.
Maths
We have explored lots of practical maths this term. We used the tens and ones to support our calculating of addition and subtraction of 2, two digit numbers. We also looked at crossing the tens barrier and having to exchange a ten. We have been grouping and sharing to develop our multiplication and division knowledge. We even played in the water to work out capacity of different containers and measured to different millilitres.
Chinese New Year Day
We had a great day looking at how another culture celebrate. We tasted some food, we looked at some traditional tales and we wrote some new year wishes.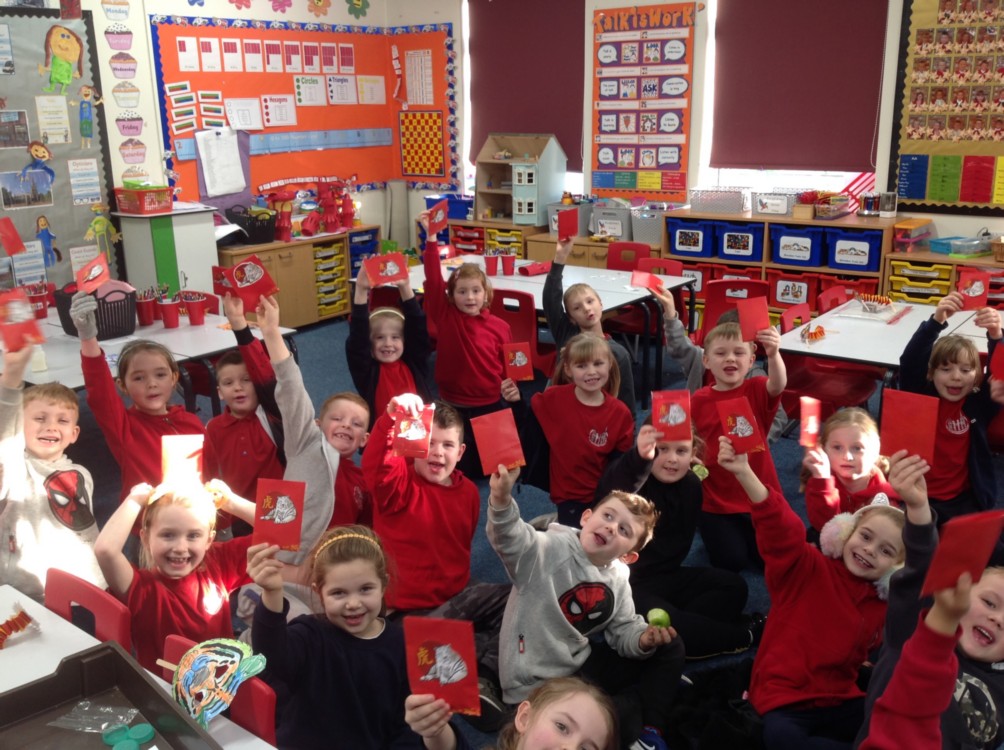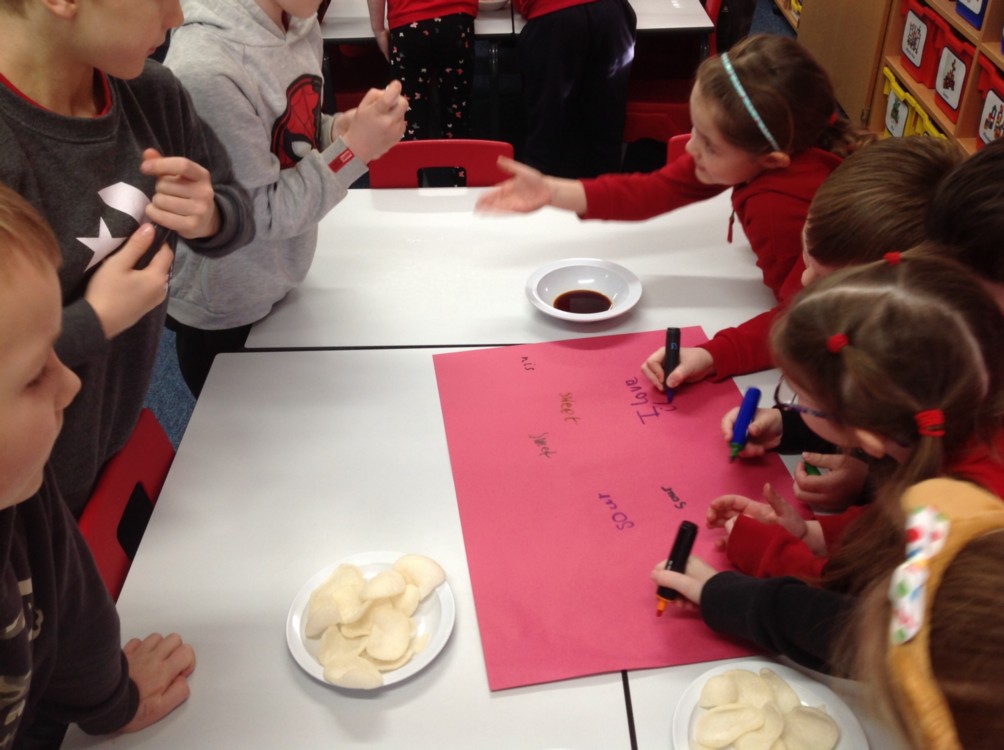 World Book Day (WBD)
We were very lucky because we had four travelling story tellers! We listen to four new stories, and we got to vote for our favourite story of the day. We even got to decorate our own cakes just like the boy from the Viking who liked icing story.
Fireman Visit
We have learnt about People who help us this term and we were lucky to get a visit from our local Firefighters and the fire engine. We asked some really good questions, that we had written ourselves, and had a good tour of the fire engine. We even got to have a go at firing the hose pipe!
Welly Walk
We had a fabulous time joining in with the Woodpeckers Welly Walk and raising money for the RNLI charity.
Design Technology
We designed and made our own emergency vehicles. They needed to have working wheels which used an axel to help the wheels turn. We tried hard to paint them in their correct colours. We even raced them to see whose vehicle couldn't travel the furthest. We have also made an Easter card that uses a push up level to make a rabbit pop up out of a basket.
Science
This term has all been about our senses and exploring how we use our senses every day. We explored our sense of smell and taste through unusual fruit juices and tasting crisps. We explored our sense of touch by taking away our sight and covering our skin! We have also looked at things that are alive, were alive or have never been alive as part of our science and geography about the seaside.
RE
We have learnt a lot about Christianity this term and how important Jesus is to Christians. We have shared some pitta bread and grapes to symbolize the sharing that Jesus did at the last supper. We also understand that Christians do this in church regularly as part of their worship.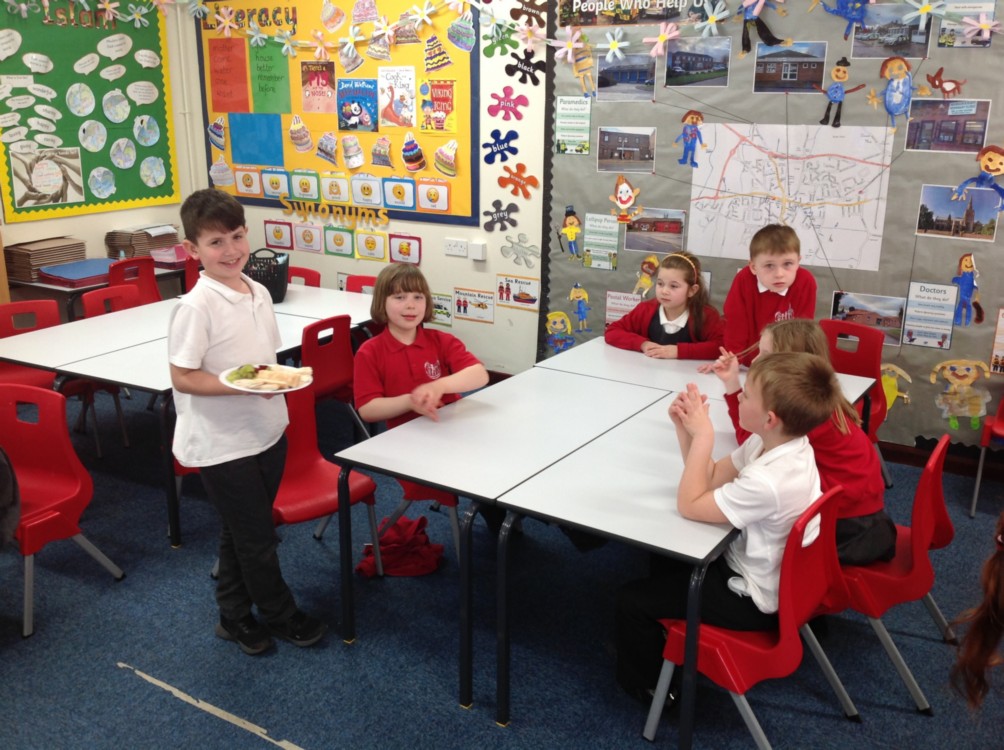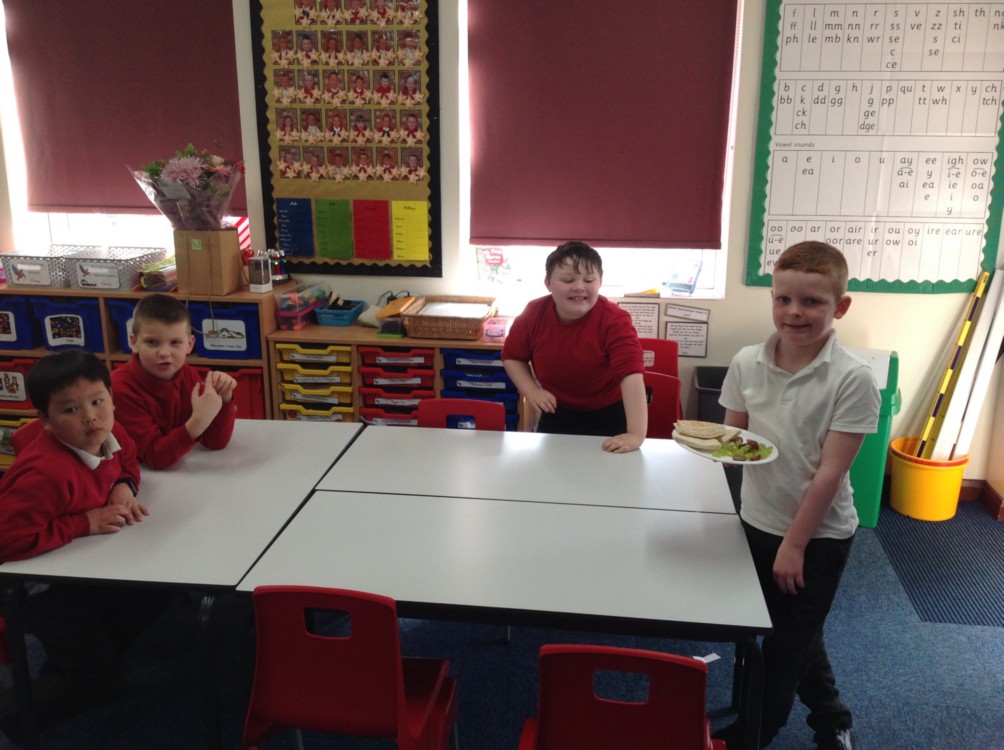 Art
This term we have explored a variety of different artists and have spent some time learning about colours and colour mixing. We have looked at the work of different artists and have painted in their style.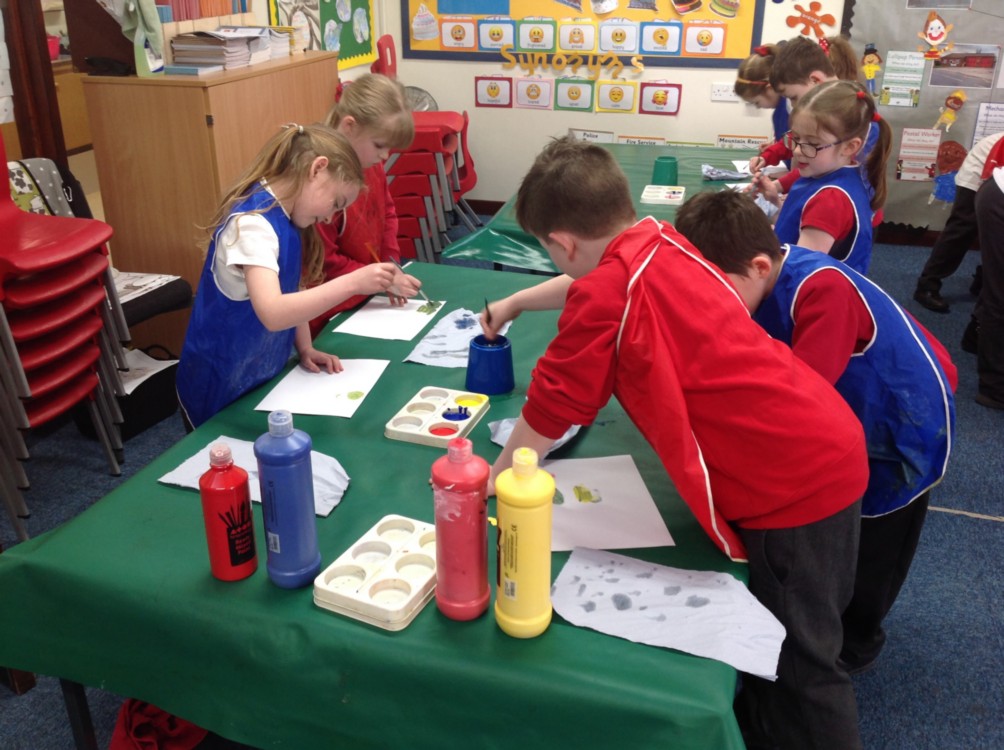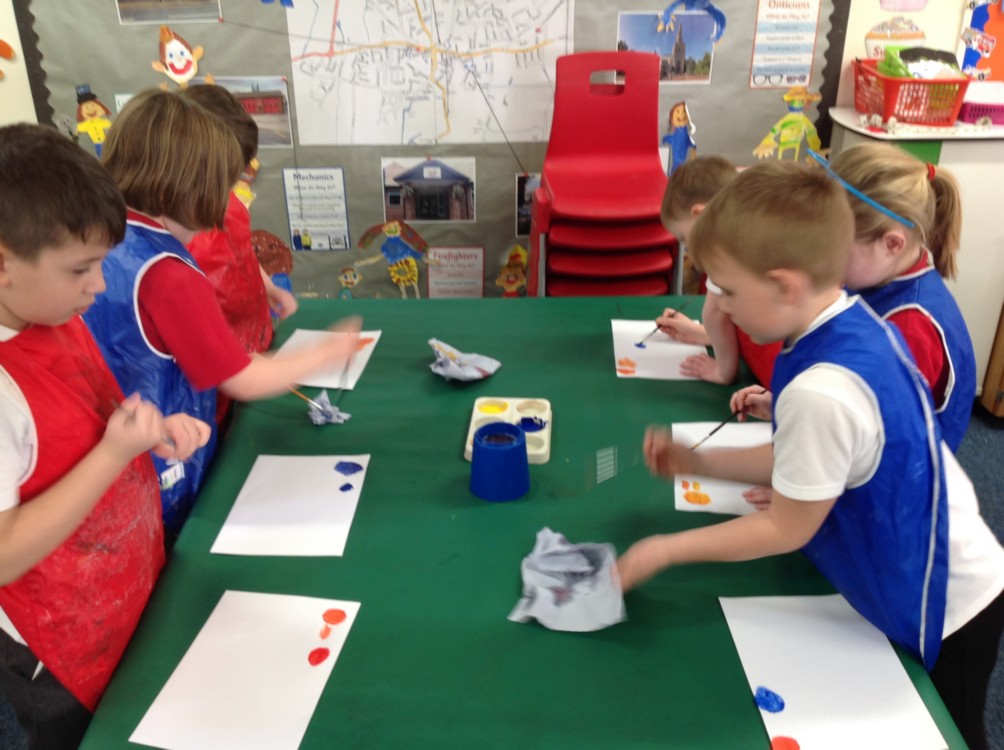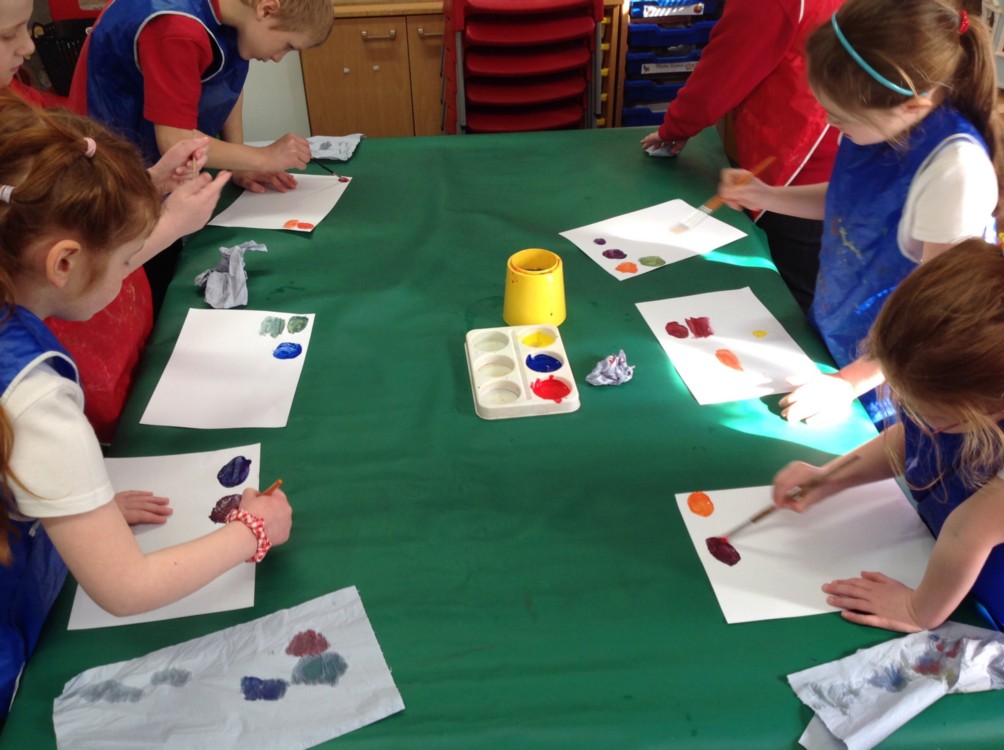 Autumn Term 2
We have continued learning about where our food comes from. We sequenced the journey of the banana.
In art, we used natural resources to create our own nature pictures. Can you guess what we have created?
In maths, we have continued to investigate how two-digit numbers are made from tens and ones, and we used 10ps and 1ps to create amounts. We have learnt about arrays and how to investigate the multiplication facts of 2 and 5. Rapid recall of number bonds is important in maths, so we have been trying to improve our own scores on Hit the Button.
We have learnt about coding and how coding is a set of instructions for computing.
On Earth Day, we all made our own Lego houses and watched how the ice cap (bag of ice) was melting and how some houses became flooded! We also made our own recycled paper!
We also took part in the shoebox appeal. A big thank you to everyone that sent in boxes and items to go into boxes. We hope the children really like their Christmas boxes.
Our Nativity was fun to do, and we hope our grown-ups liked it.
Autumn Term 1
This term we have been learning all about the farm and where our food comes from. We have learnt that we get food from animals and from plants.
Together we have explored why Devon is good for diary farming and how cheese comes from milk. We even made some cheese on toast! We know bananas come from Costa Rica and that they travel many miles before they reach the shelves in our shops.
In art, we are studying Andy Warhol and we have been inspired by his work on ordinary cans of soup.
We have investigated in maths to discover how two digit numbers are made from tens and ones, how two single digit numbers bridge through the ten and the he multiplication facts of 2.
Our 'Make, bake and shake day' was fabulous! We got to make our own chefs hats to keep our hair out of the food we made and we learnt about how important it is to have clean hands when cooking.
We sliced up 800g of strawberries, added the juice of 1 lemon and 400g of sugar before Mrs Glenn took it all for boiling in a big pan! The heat made the ingredients all stick together to form the jam.
We learnt the science behind making butter and how all the fat sticks together when you shake double cream. Shaking the cream was hard work but we cooperated as a team to change the cream into butter and buttermilk.
Then we combined strong flour, yeast, salt and water to make a dough. The smell in the classroom was amazing. We had to mix, knead and shape the dough before leaving it to prove. The proving meant that the yeast could work it's magic and put the bubbles into the dough. Our bread rolls doubled in size! Mrs Glenn then took them to the oven to cook them. The heat change the dough from being soft and sticky to crispy and delicious.
Then we all had the opportunity to taste what we had made! Absolutely delicious! Nothing was left!
This term has been packed full of learning and fun things to discover. Roll on term 2!